VitaShield® OPC-3 Triple Serum
NT$3930
AutoShip price:
NT$3734
NT$75 Cashback
Four Bottles (7 ml each)
|
sku: T1252
This product qualifies for free or flat-rate cost shipping. Learn More
Details
---
Our skin is under constant attack from environmental factors and aging effects, , fight back with VitaShield OPC-3 Triple Serum to help maintain youthful, radiant-looking skin. Specially formulated with sodium hyaluronate and yeast-beta glucan, this anti-aging packed serum effectively moisturizes and soothes the skin, while combating environmental stresses that age the skin.
This revolutionary formula utilizes a unique delivery system called Lipoplex™, which relies on carriers known as liposomes that are large enough to carry the active ingredients, yet small enough to penetrate into skin. LipoplexTM delivers these ingredients using a prolonged and controlled time release for maximum absorption and benefit.
Potent vitamin C is not mixed into the serum until time of application, which helps to retain its integrity and efficacy. This maximizes its ability to protect our skin, helps reduce the appearance of fine lines, and brighten the complexion for optimal skin health.
Benefits
---
Protects against the effects of environmental injuries
Provides strong anti-aging protection
Helps maintain youthful-looking skin
Helps reduce the appearance of wrinkles
Promotes healthy skin elasticity and firmness
Refines skin tone for a smoother, more radiant complexion
Moisturizes for softer, more supple skin
Ingredients
---
Sodium Hyaluronate
A vital moisturizer and lubricant found naturally in our skin. It provides superior, long term moisturization, helping to keep the skin hydrated and supple.
Yeast Beta-Glucan
Beta-glucan extracts are well known for the soothing, anti-aging and moisturizing properties. These properties may help hydrate the skin, protect the skin from environmental stresses and keep the skin looking smooth and soft.
Vitamin C
One of the most abundant anti-aging ingredients found in human skin, where it plays an important role in protecting the skin and supporting healthy skin. Topical application of Vitamin C can help reduce the appearance of fine lines and wrinkles, help the skin feel firmer and more supple, and provide a smoother, brighter-looking complexion.
FAQ
---
What is the purpose of the VitaShield OPC-3 Triple Serum?
VitaShield OPC-3 Triple Serum is an advanced antioxidant shield that protects the skin. Its LipoplexTM delivery system allows the beneficial ingredients to penetrate skin where they provide protection and benefit.
Why isn't the vitamin C mixed with the other ingredients when it is manufactured?
Vitamin C is very unstable and begins to oxidize shortly after it comes into contact with the aqueous solution. If the vitamin C was mixed with the other ingredients during manufacturing, by the time the customer received it the oxidation process would have eliminated all its benefits.
How much vitamin C is in the VitaShield OPC-3 Triple Serum?
Each capsule contains approximately 210 mg of 100% pure vitamin C. This equates to 3% of the total formula.
Can I use VitaShield Vitamin C Intensive Treatment along with VitaShield OPC-3 Triple Serum?
Absolutely! The vitamin C in VitaShield OPC-3 Triple Serum is designed to penetrate quickly into the skin whereas; the vitamin C contained in VitaShield Vitamin C Intensive Treatment is in a non-aqueous base and provides sustained release into the skin. The combination of vitamin C in both products provides the most effective delivery for maximum vitamin C benefits.
Note: Should you experience any temporary skin irritation due to the combined high dosages of vitamin C, exclude the VitaShield OPC-3 Triple Serum in the evening.
How do I use VitaShield OPC-3 Triple Serum?

To ensure proper application follow the steps below:

Remove the silver neck band.
Place vial on a hard surface (not on glass), or hold firmly in your hand. Press down firmly on the activator cap (the white piston valve on top of vial) to release the vitamin C into the vial. The piston can also be pushed down using the thumb. Note: The piston should be depressed completely.
Tap the top of the vial to assure that all of the vitamin C has dispersed into the vial.
Shake the vial vigorously for about one minute to mix the vitamin C with the emulsion.
Remove the inner plastic cap.
Replace the inner cap with the white applicator tip.
Using the flexible tip of the white applicator cap, squeeze a few drops onto your fingers. Massage into skin on face and neck until completely absorbed. Avoid the area around the eyes to ensure there is no irritation.
When do you recommend using VitaShield OPC-3 Triple Serum?

VitaShield OPC-3 Triple Serum should be applied in the morning after cleansing and toning. Apply several drops to your fingertips and spread over facial area. Follow with VitaShield Vitamin C & E Moisturizer.
Use VitaShield OPC-3 Triple Serum every day. On days where you have prolonged exposure to the sun, use morning and evening.
Why must I use this product within 10-12 days after it has been activated?
Vitamin C remains fully active for about 12 days after it comes into contact with an aqueous solution. VitaShield OPC-3 Triple Serum is in an emulsion which contains water. Each vial contains sufficient product to last 10-12 days. More importantly, you should use this product every day for maximum protection.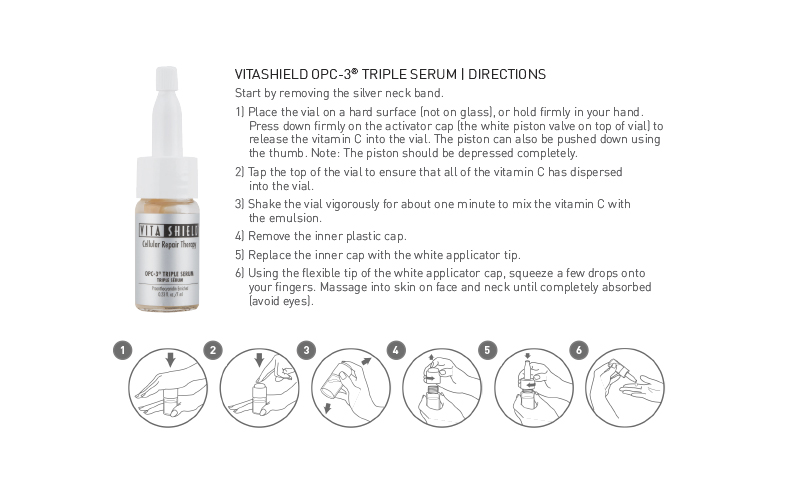 Reviews
---
Displaying reviews 1 - 5 of 6
This VitaShield Triple serum has helped to erase facial scarring that i thought to be permanent, (they were 27 years old!) It miraculously smooths ths scars out and lightens them in shade!
I love this OPC 3 triple serum, it helps mine pores smaller, and brighten my skin tone.
This is a great product that help to prevent free radical damage to the skin. It also dimish my acne scars on my face. I definitely love it and will recommend this to al my friends
The OPC Triple Serum is GREAT! I absolutely love it! It's helps even out my skin tone and diminish my acne scars. I use it often when I have a budding pimple to control breakouts. I only use a vial every three weeks but even so it's made a difference. For travels don't take un-openned vials on planes, the difference in pressure opens the vitamin C casing.